UG Courses
CSE
ECE
EEE
Information Technology
CIVIL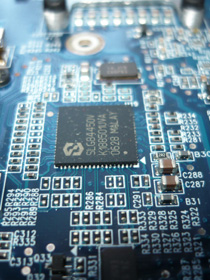 B.E. Electronics & Communication Engineering
About the Department
Introduction
The Department of Electronics and Communication Engineering was started in the year 2009 with an intake of 60.Presently the intake of the ECE department is 120 .It has been offering a full-time 4-year B.E degree course in ECE.
The Department offers excellent laboratory facilities in the areas of Digital Signal Processing, Networking, Optical Communication, Microprocessor and Microcontrollers and VLSI Design to the students. A separate network laboratory provides internet facilities to the students using leased line capacity of 2 Mbps.
Various laboratories in the department include Analog and Digital Communication Engineering Laboratory; Digital & Linear integrated Laboratory, Fiber Optic Laboratory, Digital Signal Processing Laboratory, Network Laboratory, VLSI Design Laboratory, Electronics circuit Laboratory, Microprocessor and Microcontroller Laboratory.
Mission
The mission of the ECE Department is to provide education for those students who are able to compete internationally, able to produce creative solutions to the needs of society, conscious to the universal moral values, adherent to the professional ethical code, and to generate and disseminate knowledge and technologies essential to the local and global needs in the field of Electronics and communication engineering.
Vision
The vision of the ECE Department is to become a nationally and internationally leading institution of higher learning, building upon the culture and the values of universal science and contemporary education, and a center of research and education generating the knowledge and the technologies which lay the groundwork in shaping the future in the fields of electronics and communication engineering.
UG Course
B.E-ECE (4 Years)
Academics
UG Courses
PG Courses
Calendar
Exam Cell