UG Courses
CSE
ECE
EEE
Information Technology
CIVIL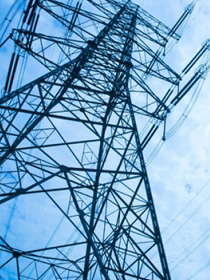 B.E. Electrical and Electronics Engineering
Events
One day National Level seminar on Intelligent Controllers held on 29.12.2018
One day National Level seminar on "Intelligent Controllers" held at VCTW EEE Smart Class Room on 29.12.2018. The Chief Guest of this seminar was Mr.S.Selvakumar.M.E., Lead Engineer, ABB Privates Ltd, Chennai. Dr.P.Kannan, Prof.&Head/EEE welcomed the gatherings and Dr.C.G.Ravichandran, M.E.,Ph.D., Principal, Vivekanandha College of Technology for Women facilitated the gathering then Dr.R.Prakash, M.Tech., Ph.D., Dean Academic [ECE,EEE &CIVIL] gave the special address to the gatherings. The programme was very useful for our Faculty Members and Students. The Intelligent control systems are typically able to perform one or more of the following functions: planning actions at different levels, learning from past experience, identifying changes against the system behavior, such as performance degradation, failures, cross-coupling and then reacting appropriately.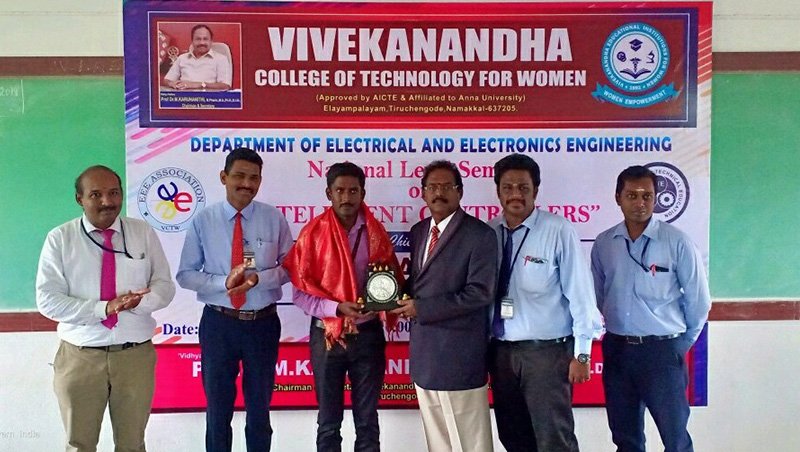 Presenting Memento to Resource Person by Our Principal Dr.C.G.Ravichandran M.E., Ph.D.,
Enterepreneurship Awaeness Camp Sponsored By Enterpereneurship Development Institute Of India (EDII) on 26.09.2018
EEE Association Inauguration – 25.09.2018
IV year 39 students went to Industrial visit to Unjanai Substation on 31.08.2018.
II year 54 students went to Industrial visit to Metur Thermal Power Station on 16.08.2018.
ICMR Sponsored Seminar on Conventional and Modern Approach for Biomedical Instruments on 5.7.2018
Students Industrial visit to Kalpakam Atomic Power Station on 11.03.2017
Guest Lecture on Digital Security by Mohamad Fadli Zolkipli, Senior Lecturer,Universitiy, Malaysia on 8.3.2017
Technical quiz by Mr.A.Durai Murugan,IPERT Expert Academy,Namakkal on 31.01.2017
Seminar on Smart grids by Mr.R.Santhosh Kumar, Chief Manager/NLC,Neyveli on 25.02.2017.
One day Workshop on Circuit Design Using Online Software by Mr.R.Sakthivel,M.E.,PhD., Associate Professor /School of Electronics Engineering on 29.09.2016.
Inauguration of EEE Association and Seminar on Energy Conservation and Utilization by Mr.K.Anandababu, Assistant Engineer /TANGEDCO, Tiruchengode on 12.08.2016
Association Events 2016-17
Nature of the Programme
Date & Venue
Title of the Programme
Chief Guest
Seminar
12.08.2016
Association Inauguration and seminar on energy conservation
Mr.K.Anandababu,
AEE,TANGEDCO
Guest lecture
23.09.2016
Guest lecture on recent trends in power electronics
Ms.R.Deivanai,
AP/EEE,VIETW
Workshop
29.9.2016
Workshop on circuit design with online software
Dr.R.Sakthivel,
ASP,VIT,Vellore
Seminar
25.02.2017
Seminar on Smart grids
R.Santhosh Kumar,
Chief Manager/NLC,Neyveli
Technical quiz
31.01.2017
Technical quiz
Mr.A.Durai Murugan,IPERT  Expert Academy,Namakkal
Seminar
08.03.2017
Seminar on Malware Foreignsic
Mohamad Fadli Zolkipli, Senior lecturer,Universitiy,
Malaysia
List of Seminar/FDP /Workshop (Academic Year 2016-2017)
PROGRAMME
DATE
SEMINAR ON ENERGY CONSERVATION & RENEWABLE ENERGY RESOURCES
12.08.2016
SCIENCE PROJECT EXPO-2016
01.09.2016,
02.09.2016
and
03.09.2016
WORKSHOP ON LABVIEW
17.09.2016
GUEST LECTURE
30.9.2016
HANDS ON TRAININGON CIRCUIT DESIGNING
25.03.2016
ONE DAY SEMINAR ON BASICS OF LABVIEW
08.10.16
ASSOCIATION ACTIVITY (2015-2016) Odd Semester
NAME OF THE FUNCTION
DATE
RESOURCE PERSON/PLACE
Guest Lecture on Bio-medical Instrumentation
14.08.15
Moorthi Kanagaraj, M.E
Product Engineer,
Enthu technology solutions,
Coimbatore
One day Seminar on
Lab View
15.09.2015
S.Sivakumar, B.Tech
Senior Application Engineer, Starcom Information Technology Ltd., Bangalore.
List Of Conferences /Seminar/FDP /Workshop-Organized-(Academic Year 2014-2015)
Name of the scheme
Title
Co-ordinator
Date
SEMINAR
ONE DAY SEMINAR ON BASICS OF MATLAB
M.DILIPKUMAR, AP/EEE
08.08.2014
PROJECT EXPO
MEGA PROJECT EXPO-2015
C.SIVAPRAGASH,HOD/EEE
29.10.2014,
30.10.2014 and 31.10.2014
AWARENESS PROGRAM
ENERGY AWARNESS PROGRAM
A.PRADEEP,AP/EEE
20.12.14
WORKSHOP
WORKSHOP BASICS OF PCB DESIGN
J.MURUGANANTHAM, AP/EEE
26.12.2014
To 30.12.2014
SEMINAR
ONE DAY SEMINAR ON MAINFRAME DB2
C.SHANKAR, AP/EEE
29.01.2015
CONFERENCE
NATIONAL CONFERENCE ON RECENT TRENDS IN ENGINEERING AND TECHNOLOGY
R.SARAVANAN, AP/EIE
I.DEEPA, AP/EEE
25.03.2015
SEMINAR
ONE DAY SEMINAR ON BASICS OF LABVIEW
K.KARTHIKADEVI, AP/EIE
02.04.2015
Academics
UG Courses
PG Courses
Calendar
Exam Cell